About Firecrow Handwovens
Firecrow Handwovens has been designing and weaving joyfully colorful scarves, shawls, ponchos and home textiles since 2010. Our focus is on creating high-quality, functional pieces that will last for years, maintaining their luxurious sheen, texture and colors. New pieces and lines are designed every year to keep inventory fresh and introduce new weave structures. Our goals are to bring beauty to the world we share, encourage others to share their individuality and self-expression, and to share the joyful, creative, traditional and patient process of hand weaving through pieces that will be cherished for years to come.
Kathy Litchfield, master weaver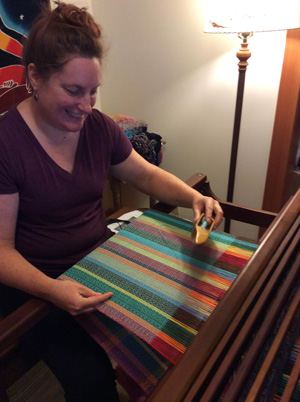 Kathy fell in love with weaving the first time she threw the shuttle through the shed, at Old Sturbridge Village at about age 9.
Fascinated by the process of creating cloth, she took her first weaving class in 2005 and immediately began thinking about production of her own designs.
She has studied weaving with master weaver Donna Cavagnac in Orange, Mass., Dena Gartenstein of the Vermont Weaving School in Putney, Vt., Chris Hammel at the Hill Institute in Northampton, Mass. and Becky Ashenden at Vavstuga Weaving School in Shelburne Falls, Mass. She has also studied intensively with Elisabeth Hill of Conway, Mass., Fran Curran of Hartford, Conn. and Margo Selby of England.
In June of 2016 Kathy was juried into the League of NH Craftsmen. Since 1932 this prestigious organization has led the way in setting the standard and promoting fine craft internationally.
In June of 2018, she was awarded her Master's Certificate in Weaving under the direction of master weaver Chris Hammel, at the Hill Institute in Northampton, Mass. She furthers her education at annual conferences and workshops and is constantly immersing herself in learning new weave structures.
Watch Kathy weaving (and talking about the process) here: https://youtu.be/8xM9hKcHkUI
Kathy loves sharing her joy through weaving. She draws inspiration from nature, traveling, "and the magical world around us" to design and create wearables - scarves, shawls, ponchos, wraps - and home textiles – napkins, towels, table runners - that enhance one's home or lifestyle with beauty, self-expression and individuality. Specialties are her original "Story Scarves" and "Story Shawls" that share tales and life experiences woven into fabric with vibrant colors and rich textures. She often incorporates novelty yarns and contrasting fibers into the same piece. Presently she weaves mostly on 8-harness looms manufactured by Norwood and Schacht.